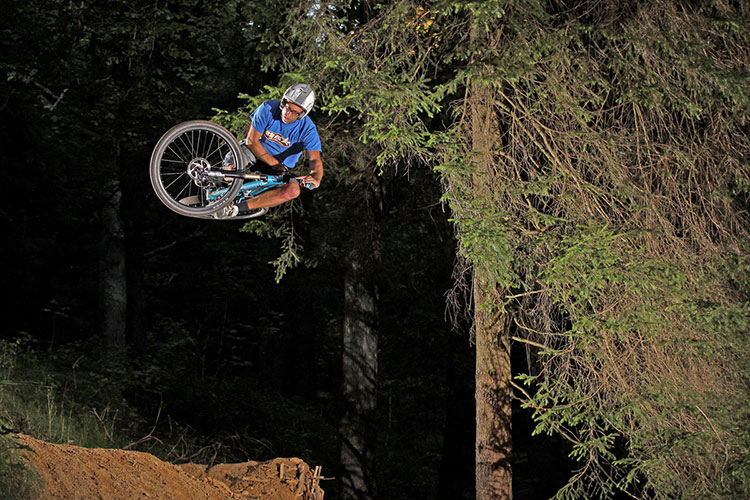 Name:
Frank Heinrich
Country:
Germany
Discipline:
Dirt Jumping, Gravel, All Mountain, Klunker Pilot
Biggest Success:
Taking time off for a world trip in 1997
Goal for the future:
Having more time for family and friends.
Sponsors:
If I need something, I just go to my wearhouse
How did you get into mountainbiking?
I was fully into bmx, as I heard about offroad bikes with gears. I havn´t seen one of those bikes in a bike shop till that day, so I just took the first one I found. It was a heavy as hell Thunderbird with a one-piece bar-stem construction.
What kind of bikes do you have in use?
Don´t think company owners ride the latest shit. Most of the time I ride what is left in the warehouse, scratched returners, prototypes… but my favorites are my dirt jumping bike, the klunker and my endure bike.
Best place to ride your bike?
I really liked Moab, because of the great scenery.
Which destination is standing on your to do list in the future?
Tasmania
Which music fits best for riding?
Social Distorsion when it get´s a bit more rough and CCR for a klunker ride.
Favoutite Race:
I don´t really compete any more. My last race was a cyclocross race in 2019.
Who would you like to take for a ride?
Satoshi Nakamoto, the founder of the Bitcoin
What is the best, after a long day of riding?
I love BBQ´s
Other activities beside biking?
Defently surfing and although longboarding, snowboarding and we have this table tennis plate on our dirt jumping spot, we often play.
Where do you see yourself in 30 years?
Ohh man, by that time I will be 80. What should I say. I hopefully cruise around and watch the young guns on the local trails hitting some dirt jumps.